Golf Trolleys and Golf Cart Battery 6V380Ah
This RIMA 380Ah 6V rechargeable traction battery is part of our EV series of our sealed valve regulated lead acid batteries. RIMA's traction batteries are designed to give power over sustained periods of time. Traction batteries are normally used as a DC power supply for forklifts, tractors, haulers, underground mining locomotives, and other equipment. You can find the application of lead-acid traction batteries in airports, stations, ports, vegetable and fruit markets, and warehouses of industrial and mining enterprises. With a high ampere-hour capacity, RIMA's traction battery can be used as a clean and pollution-free vehicle DC power supply. RIMA's traction battery is ideal for Forklifts,Tractors, Haulers,Underground Mining Locomotives,Sweeper, etc. The EV-series batteries are typically used in the applications like Forklifts, Tractors, Haulers, Underground Mining Locomotives,Sweeper, Golf Cart, Aerial Working Platform, Commercial Transport Buses, etc.
Product Information:
Nominal Voltage(@25

℃

):

6V

Nominal Capacity (@25

℃

):

380Ah

Weight:

53.5KG(117.945lbs)

Length:

295mm (11.614inches)

Width:

180m (7.087inches)

Height:

405mm (15.945inches)

Total Height:

410mm (16.142inches) OR 425mm(16.732inches)

Terminal:

F12 OR AM

Design life(@25

℃

)

10 years

Warranty:

24 months

Certificate:

ISO9001, ISO14001, ISO45001, UL, CE, TLC

Package:

1 pcs per Carton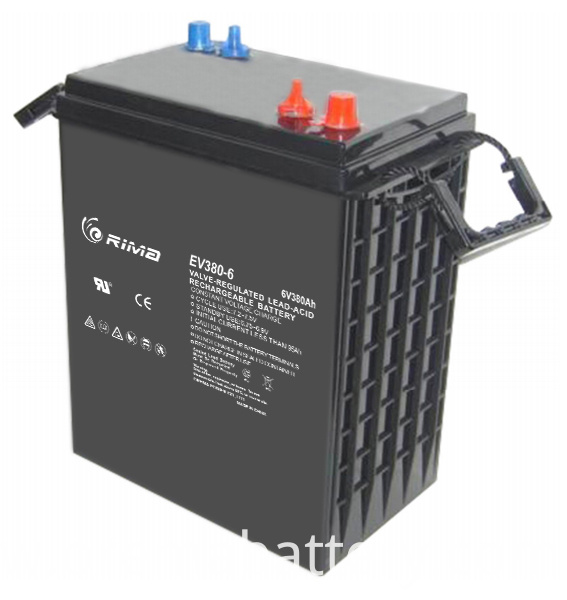 Features of this 380
Ah 6V Rechargeable Traction Battery:
? 380Ah 6V Rechargeable Traction Battery Ideal for Underground Mining Locomotives, Forklifts,Tractors, Haulers,Sweeper, etc
? Fully sealed valve regulated structure
? Special lead alloy positive plate grid ,special lead paste formula and additives make the cycle life up to 450 times.
? Copper terminals with high electrical conductivity.
? Low self discharge rate
Typical Applications of this 380Ah 6V Rechargeable Traction Battery:
? Battery For Forklifts
? Battery For Tractors
? Battery For Haulers
? Battery For Underground Mining Locomotives
? Battery For Sweeper
? Battery For Aerial Working Platform
? Battery Golf Cart
and etc