RIMA 2V 500Ah TUBULAR GEL OPzV Battery ,Ideal Battery for UPS,Industrial Backup, Telecom Networks, and Renewable Energy.
This 2V 500Ah Tubular Gel OPzV Battery is part of our range of tubular gel OPzV batteries. The OPZV-series batteries are maintenance-free and have robust construction, providing the highest level of reliability and performance. Our Gel OPzV Tubular Batteries provide long and reliable performance in reserve power applications. The batteries have a long proven track record in mission critical installations, especially in remote and high temperature environments. Tubular lead-acid batteries are exceptionally tolerant of partial state of charge operation and deep discharge. This OPZV500 battery is developed with a robust construction for applications demanding frequent deep cycling, such as: Solar and Wind Energy Systems, UPS Systems,Telecommunications,Transportation signaling,Automation & measuring system, and more.
RIMA's OPzV Tubular Plate Technology extends lead-Acid Battery service life significantly by providing excellent recovery during deep discharge and frequent Partial State of Charge operation. RIMA's Opzv Batteries provide maximum efficiency per discharge-charge cycle, and proven reliability in remote, high temperature, and unstable power network installations. RIMA's OPzV batteries eliminates frequent and complex maintenance practices and provide the Lowest Total Cost of Ownership (TCO) amongst maintenance-free lead-acid technologies.
Product Information:
Nominal Voltage(@25

℃

):

2V

Nominal Capacity (@25

℃

):

500Ah

Weight:

37.5kg (82.67lbs)

Length:

206mm (8.11inches)

Width:

166m (6.54inches)

Height:

471mm (18.54inches)

Total Height:

506mm (19.92inches)

Terminal:

F28

Design life(@25

℃

)

20 years

Warranty:

5 years

Certificate:

ISO9001, ISO14001, ISO45001, UL, CE, TLC

Package:

1 Piece per Carton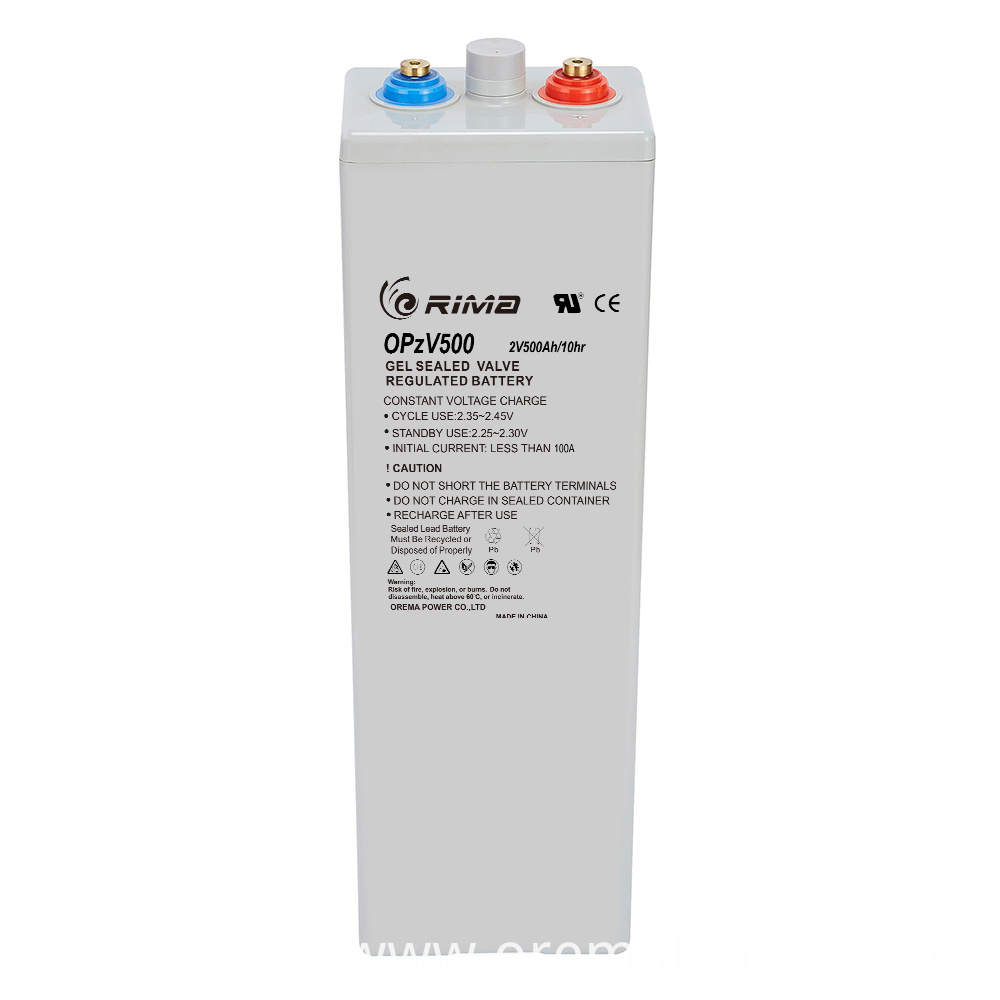 Features of this 2V 500Ah Tubular Gel OPzV Battery:
? 2V 500Ah Tubular Gel OPzV Battery is ideal for Industrial Backup, UPS, Telecom Networks, and Renewable Energy.
? Tubular Technology. Positive plates provide 20% more capacity than flat plate batteries. Encapsulated active material avoids plate shedding extending cycle life.
? The special structure design. The electrolytic substance is colloidal electrolyte, the battery floating charging life is as long as 18~20 years (25OC).
? The self-discharge of the battery is extremely low, and the charge can be immediately restored after 12h of deep discharge, so that the capacity reaches 95% of the rated capacity.
Applications of this 2V 500Ah Tubular Gel OPzV Battery:
? UPS
? industrial backup,
? telecom networks,
? renewable energy,
? Telecommunications

and more.