RIMA UNF150-12II 12V 150AH AGM Front Terminal Battery
This 12V150AH AGM front terminal battery is designed for applications that demand high levels of security and reliability. It is part of our UNF series of our sealed valve regulated lead acid batteries. UNF series Front Terminal Battery adopts a special paste formula to improve battery charge acceptance. Advanced technology used,it carries stable performance and good consistency. The UNF front terminal batteries are valve regulated, maintenance-free.
UNF front terminal batteries are specially ideal for telecom use by telecommunication companies with 12 years design life in float service. By adopting a new AGM separator and centralised venting system, the battery can be installed in any position while maintaining high relaibility. The front terminal design makes it easy to access the batteries and allows for faster installation. With excellent high rate performance and long service life ,our front terminal batteries are the perfect battery choice for UPS applications. In the meanwhile,front-end terminal batteries are widely used in the field of communication power supply around the world. Meanwhile,front terminal batteries are suitable for UPS/EPS applications,marine equipment,telecommunations equipment,telecom power systems,data center,computer or power switching system,microprocessor-based office machines,wind power systems and solar power systems.
Product Information:
Nominal Voltage(@25

℃

):

12V

Nominal Capacity (@25

℃

):

150Ah

Weight:

47.3KG(104.277lbs)

Length:

549mm (21.614inches)

Width:

105m (4.134inches)

Height:

316mm (12.441inches)

Total Height:

316mm (12.441inches)

Terminal:

F15

Design life(@25

℃

)

12 years

Warranty:

24 months

Certificate:

ISO9001, ISO14001, ISO45001, UL, CE, TLC

Package:

1 pcs per Carton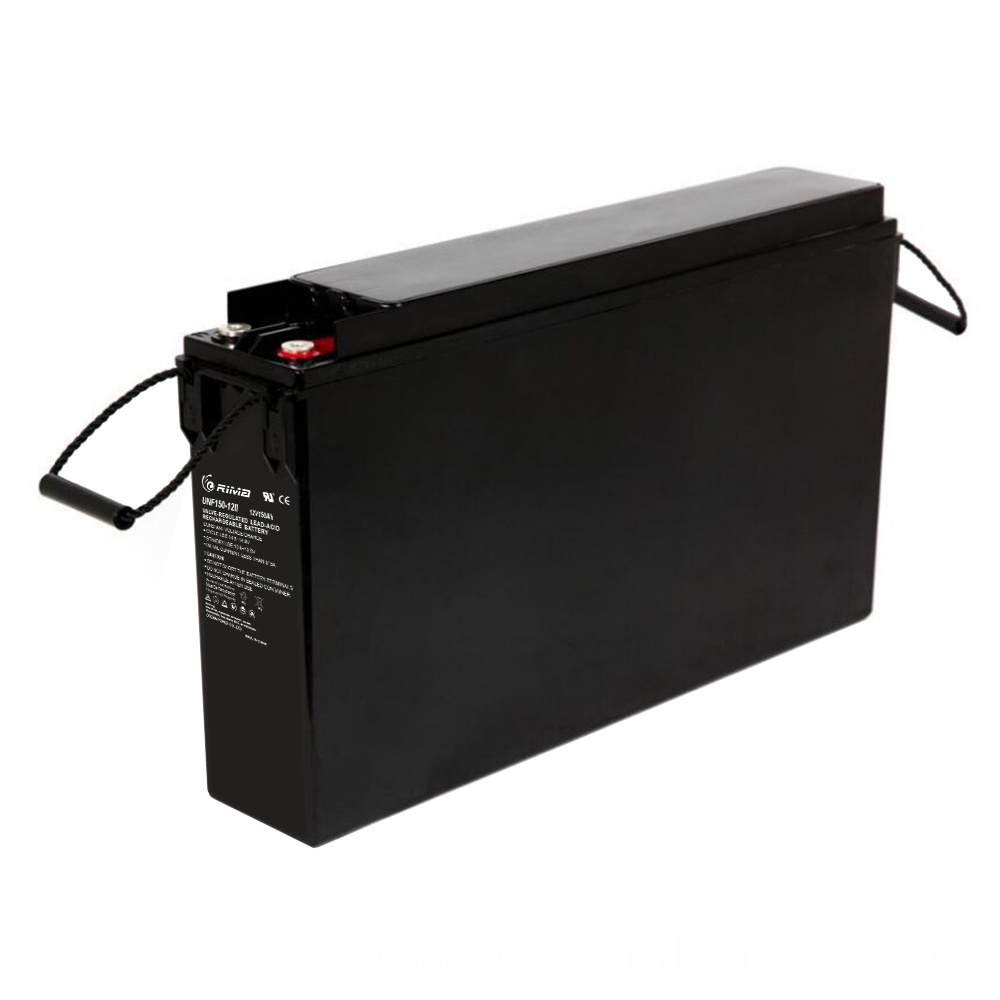 Features of this 12V 150AH AGM Front Terminal Battery :
? 12V150AH AGM Front Terminal Battery Ideal for UPS Systems,EPS Systems,Solar Power,Wind Energy,Telecom Power System, etc
? Sealed structure,no free liquid electrolyte,maintenance-free

? Long floating service life:10 years at 25℃
? Operating temperature range:-20 to 50 ℃
? Special lead paste formula and gel liquid electrolyte improve the charging acceptance ability
? Self-discharge rate ≤ 3% per month
Typical Applications of this 12V 150AH AGM Front Terminal Battery :
? UPS(uninterruptible power supply)
? Marine equipment
? Telecom power system
? data center
? Telecommunications equipment
? Engine start
? Emergency lighting control equipment
? Fire and safety systems
? Computer, power switching system
? Microprocessor-based office machines
? Wind and solar power systems