RIMA UNL3000-2 2V 3000Ah Long Life Deep Cycle AGM Battery for Data Center,Telecom Power System,UPS System,Solar Power System etc
UNL3000-2 2V 3000Ah Long Life Deep Cycle Agm Battery is part of our UNL range of Sealed Lead Acid Batteries(often referred to as VRLA). RIMA Long Life batteries are made up of ABS container,AGM seperator,acid and plates of lead. UNL series batteries adopt high elastic AGM seperator and extra thicker plate with special paste for formula. For their special recipes, UNL series long-life batteries carry the characteristics of deep cycle and high rate batteries. The batteries have stable charge and discharge performance,low self-discharge rate,long service life. The UNL series batteries are very suitable for telecom power system equipment use. An enhanced floating life allows long life batteries to be ready for use in high rate, heavy duty applications. In addition to maintenance-free use and high levels of safety, this long life AGM Solar Battery offers greater tolerance to deep discharge and high recharging performance due to advanced plate construction. This battery is perfect for renewable power systems,such as solar power systems and wind energy systems. UNL3000-2 2V 3000Ah Long Life Deep Cycle AGM Battery is also ideal for Control Equipment,Fire and Security Systems,Engine Starting, Data Center,UPS(uninterrupted power supply) Systems,Electric Generator,Substation Operating System,DC Power Supply,marine equipment and etc.
UNL3000-2 2V 3000Ah Long Life Deep Cycle AGM Battery is exceedingly safe because it uses a valve regulator to safely vent pressure. Besides, all our SLA batteries are maintenance-free and can be used in any orientation. RIMA can produce full range of AGM Batteries, GEL Batteries, Deep Cycle Batteries, Front terminal batteries, Tubular Batteries and Motive Batteries. RIMA SLA batteries are utilized in a wide variety of applications including: Power Sports,Consumer Electronics, Electric Vehicles, Engine Starters, Golf Carts, Hunting, Lawn and Garden Tools, Medical Mobility, Motorcycles, Power sports, Portable Tools, Solar, Toys and Hobby, Access Control Devices, Emergency Lighting, Security and more.
Product Information:
Nominal Voltage(@25

℃

):

2V

Nominal Capacity (@25

℃

):

3000AH

Weight:

185kg (407.848lbs)

Length:

710mm (27.9531inches)

Width:

350mm (13.780inches)




Height:

345mm (13.583inches)

Total Height

382mm (15.039inches)

Terminal:

F10

Design life(@25

℃

)

20 years

Warranty:

36 months

Certificate:

ISO9001, ISO14001, ISO45001, UL, CE, TLC

Package:

1pcs per Carton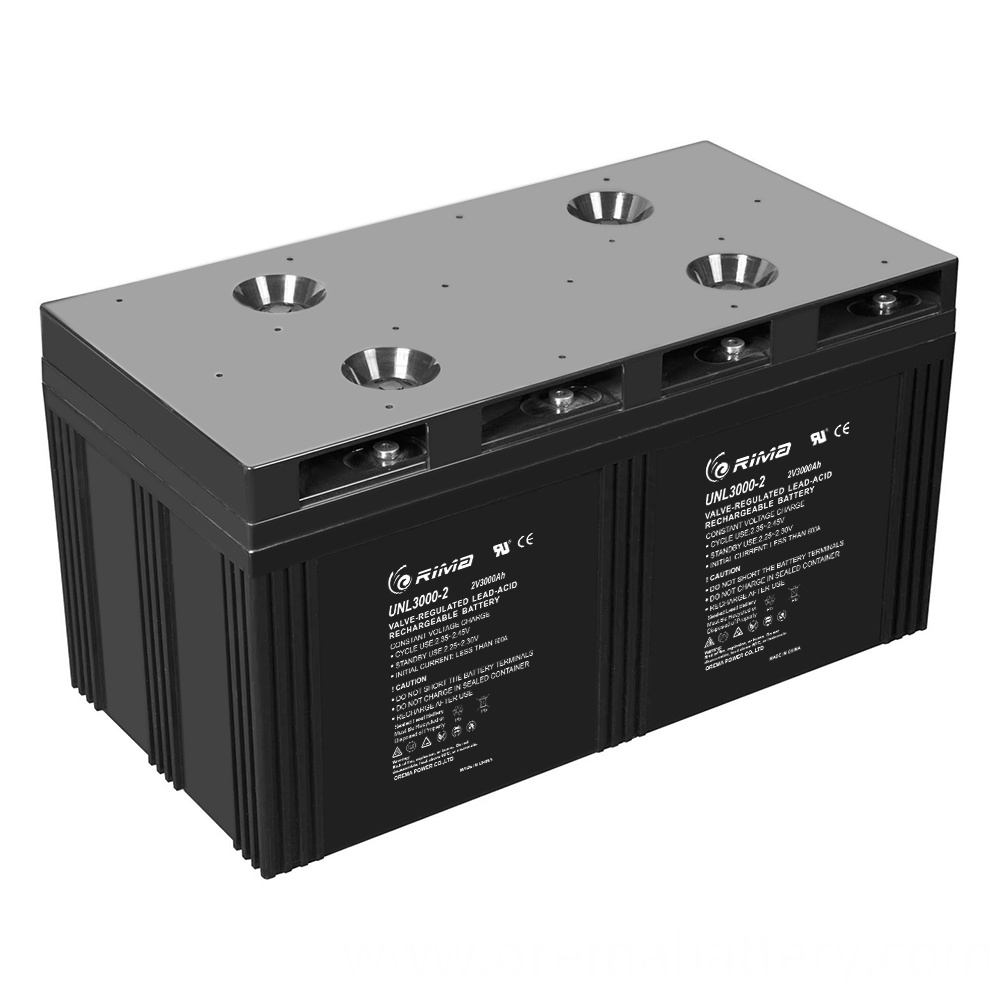 Features of this RIMA UNL3000-2 2V 3000Ah Long Life Deep Cycle AGM Battery
? RIMA UNL3000-2 2V 3000Ah Long Life Deep Cycle AGM Battery for Data Center,Telecom Power System,UPS System,Solar Power System etc
? Designed floating service life: 20 years(25℃)
? Operating temperature range:-20 to 50℃
? Thicker plate design, long service life
? Self-discharge rate no more than 3% per month
? Non-spillable factory activated battery arrives fully sealed, charged and ready for action
? Maintenance free AGM technology, no need to add acid or water ever
? Exact OEM replacement guaranteed to fit easily and precisely
? High impact PP case for maximum vibration resistance
Applications of this UNL3000-2 2V 3000Ah Long Life Deep Cycle AGM Battery
? battery for Renewable energy sources such as solar and wind power
? battery for Telecom exchange and transmission system
? battery for Mobile communication system
? battery for Power plant and power transformer system
? battery for Navigation aid signaling system
? battery for Radio and broadcasting station
? battery for Emergency lighting system
? battery for Other standby, cyclic system
? battery for renewable power system