RIMA UN90-12 AGM Deep Cycle RV and Marine Battery
When we are talking about marrine batteries, we mean the batteries which are designed specially for use on a boat. Marine batteries are with heavier plates and robust construction designed to withstand the vibration and pounding that can occur onboard any powerboat. There are three types of marine batteries: marine starting batteries, marine Deep Cycle Batteries and marine dual-purpose batteries. So it's not that easy to choose the right battery for a boat.
RIMA AGM Batteries are great in both deep cycle and starting applications. They charge more quickly than conventional batteries and have low 3% monthly self-discharge rates. The spill-proof, valve-regulated design eliminates acid spills and terminal corrosion. AGM batteries are safer to operate than conventional flooded batteries, as the chance of explosion or acid spray is reduced which allow them to be installed in almost any location and any position (except upside-down). This RIMA UN90-12 AGM Battery is the most perfect battery for a marine. This battery is also perfect for powering trolling motors, fish finders, GPS systems and other accessories.
Product Information:
Nominal Voltage(@25

℃

):

12V

Nominal Capacity

(@25

℃

):

90AH

Weight:

26kg (57.319lbs)

Length:

306mm (12.047inches)

Width:

169mm (6.654inches)

Height:

208mm (8.189inches)

Total Height

231mm (9.094inches)

Terminal:

F17

Design life(@25

℃

)

10-12 y

ears

Warranty:

24 m

onths

Certificate:

ISO9001, ISO14001, ISO45001, UL, CE, TLC

Package:

1pcs per Carton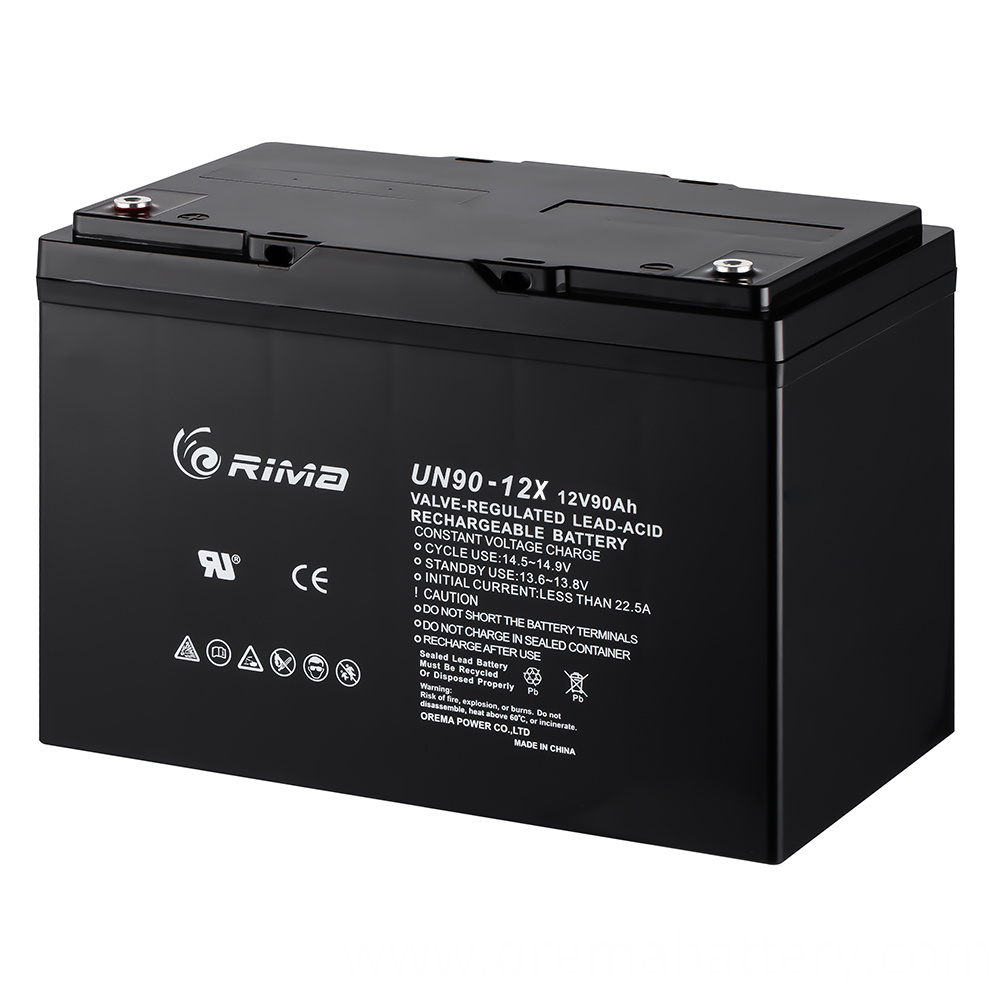 Features of RIMA UN90-12 12V 90AH AGM battery
? 12V 90Ah AGM marine battery
? Porous glass mat separators absorb and trap electrolyte (battery acid)
? Maintenance-free, valve regulated (VRLA), rechargeable battery
? Wide operating temperature, long service life, and deep discharge recovery
? Completely spill proof and leak proof
? Meets or exceeds the OEM sealed lead Acid Battery specifications
? Valve regulated,maintenance free spill proof construction
? Rugged impact resistant ABS case and cover
Applications of RIMA UN90-12 battery
? marine batteries
? UPS Standby Power Applications
? battery for a scooter
? boat battery
? Data Centers
? Emergency 911 Centers
? Hospitals & Medical Applications
? Military Power Equipment
? Emergency Lighting
? Fire Detection and Alarm Devices
? Alarm System
? Emergency Lighting System
? Firefighting Equipment
? Standby Power Supply and Telephone Switching System
? Telecommunication System
? Computer Standby Power Supply System
? Wind Power, Etc....