RIMA 33-12X 12V 33AH SLA AGM Rechargeable Deep Cycle Replacement Battery
This RIMA UN33-12X 12V 33Ah Sla Battery is an AGM (absorbent glass mat),valve regulated (VRLA), maintenance-free, rechargeable battery. This 12V 33Ah SLA battery has a wide operating temperature, long service life, and deep discharge recovery. These batteries are completely spill proof, leak proof, and meet or exceed the OEM sealed lead Acid Battery specifications. RIMA Deep Cycle Batteries are made with the highest quality materials and rigorously tested to ensure safety, OEM compatibility, effectiveness and optimal performance. Our Lead Acid Batteries are typically used for: Home Alarm Systems, Uninterruptible Power Supply(UPS), Lighting Equipment, General Electronics, Home Security Systems, Emergency Systems, Medical Devices, Electric Scooters, Solar Collectors, Wheelchairs and many Other Applications.
Product Information:
Nominal Voltage(@25

℃

):

12V

Nominal Capacity (@25

℃

):

33AH

Weight:

10.2kg (22.487lbs)

Length:

195mm (7.677inches)

Width:

130mm (5.118inches)

Height:

155mm (6.102inches)

Total Height

168mm (6.614inches)

Terminal:

F11

Design life(@25

℃

)

10-12 years

Warranty:

24 months

Certificate:

ISO9001, ISO14001, ISO45001, UL, CE, TLC

Package:

1pcs per Carton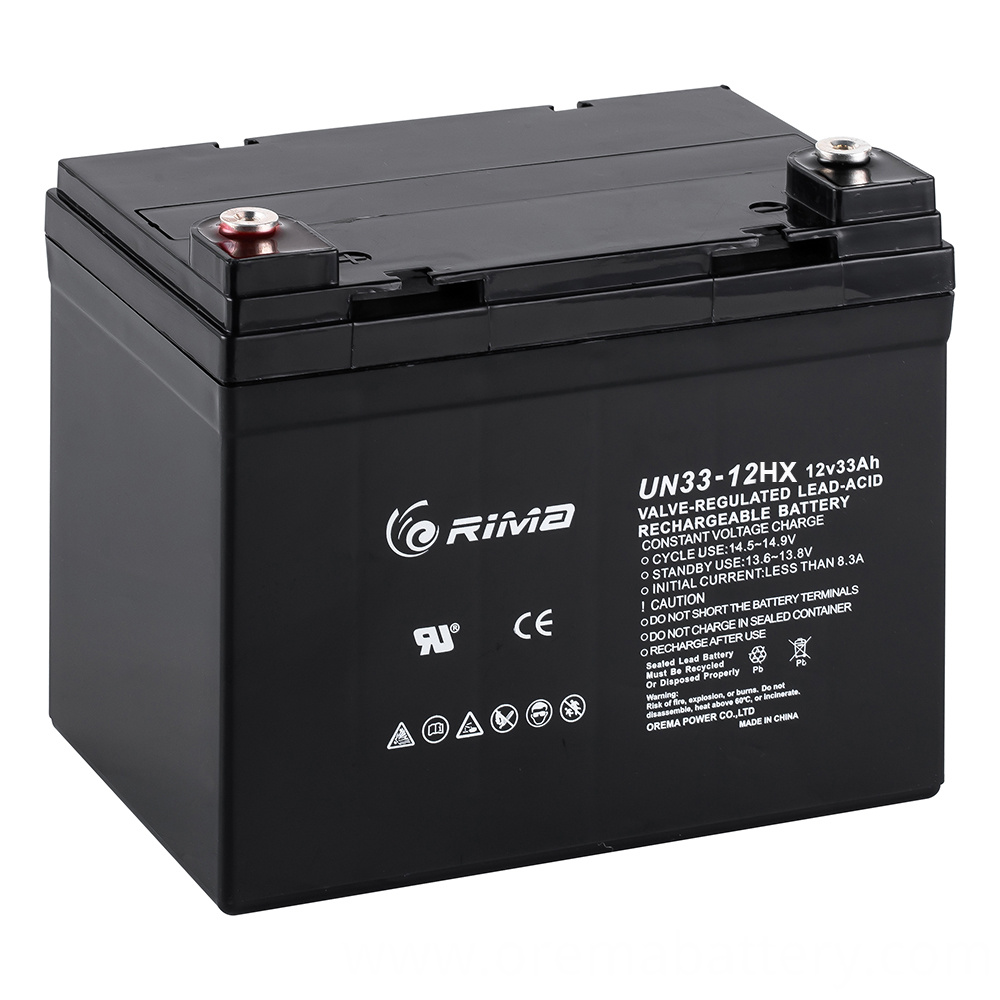 Features of RIMA UN33-12X 12V 33AH AGM battery
? 12V 33Ah AGM Battery
? Porous glass mat separators absorb and trap electrolyte (battery acid)
? Maintenance-free, valve regulated (VRLA), rechargeable battery
? Wide operating temperature, long service life, and deep discharge recovery
? Completely spill proof and leak proof
? Meets or exceeds the OEM sealed Lead Acid Battery specifications
? Valve regulated,maintenance free spill proof construction
? Rugged impact resistant ABS case and cover
Applications of RIMA UN33-12X battery
? UPS Standby Power Applications
? Data Centers
? Emergency 911 Centers
? Hospitals & Medical Applications
? Military Power Equipment
? Emergency Lighting
? Fire Detection and Alarm Devices
and more.